DAR Activity in the Plymouth Area
Contemporary DAR Activity
Chapter Organization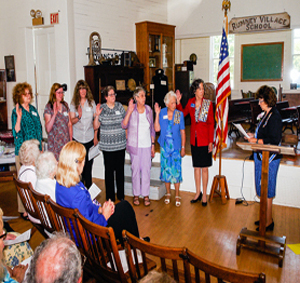 On Saturday, 13 June 2015, the Pemigewasset Valley Chapter NSDAR was organized by Chapter Regent Paula Woodward after seven months of hard work. New Hampshire State Regent Phyllis M. Gagnon participated in the organizational meeting by welcoming brand new DAR members and installing the chapter officers - with many DAR members from across the state, friends, and family looking on.NSDAR Organizing Secretary General Denise Doring VanBuren sent special greetings to thenew chapter and the Plymouth Select Board sent a proclamation of congratulations that was read by Selectman Bill Bolton. There could have been no greater way to celebrate the 125th anniversary of NSDAR than to begin a new DAR chapter in the state of New Hampshire!
Harriet Patience Dame Proclamation
On December 22, 2015, Governor Maggie Hassan proclaimed December "Harriet Patience Dame month."Chapter Regent Paula Woodward participated in the ceremony at the New Hampshire State House (third from left).Click
here
for information about this remarkable American woman.
Historic DAR Activity
(conducted by former chapter in Plymouth, Asquamchumauke)
Abenaki village site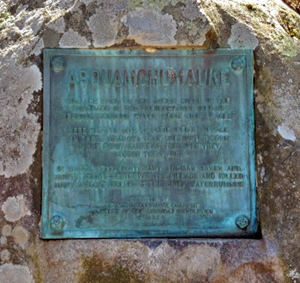 Location:
Rt 3, Plymouth, located immediately north of the National Guard Armory parking lot.
Date marked:
21 June, 1940, by Asquamchumauke Chapter, DAR.
Inscription reads:
"Asquamchumaukee was the name of the Baker River in the language of the Pemigewasset Indians (meaning "crooked water from high places"). Here was the site of their Indian village. On these meadows they cultivated corn. In the sandy banks of the river they stored their furs. In March 1712, Lieutenant Thomas Baker and thirty scouts destroyed the village and killed many Indians including the chief, Watermummus."
Historical:
The village of Abanaki Native Americans, of the Pemigewasset tribe, which Captain Baker destroyed in 1712, had been a site of clay beds and a pottery industry.
Holmes Plymouth Academy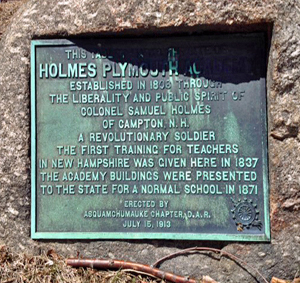 Location:
Main Street, Plymouth State University, Plymouth.
Date marked:
15 July, 1913, by Asquamchumauke Chapter, DAR.
Inscription reads:
"This tablet marks the site of Holmes Plymouth Academy established in 1808 through the liberality and public spirit of Colonel Samuel Holmes of Campton, New Hampshire, a Revolutionary soldier. The first training for teachers in New Hampshire was given here in 1837. The academy buildings were presented to the state for a normal school in 1871."
Historical:
The Plymouth Academy was established in 1808. It was the thirteenth academy incorporated in the state and the location of the first teacher's school. An academy was a private secondary school whose tuition paid for the maintenance. The principal's salary depended on how many students he could enroll. The academy was named after Samuel Holmes of Campton who had donated money towards its construction. In 1837, Samuel Hall, principal of the academy, introduced a course to train teachers for the public schools. In 1871, the buildings were given to the state and Plymouth Normal School opened, eventually becoming Plymouth State University.